I Finally Found a Foundation That Fits Perfectly Into My Makeup Routine
Foundation and I have a love/hate relationship. I usually opt for a dewy, lighter-coverage skin tint or serum for a couple of reason: not only does foundation tend to be more difficult to put on without a brush or sponge, it's also hard to find the coverage and finish I want in one product.
Finding the best foundation can feel hit or miss.
Taking into account preferred finishes, formulas, and the usability of a product, options can feel limited.
One editor tested an innovative new foundation and loved the results.
The duo comes in 24 shades and features a cream foundation with a corresponding powder to set with. While that shade range would normally deter me from trying a complexion product in the post-Fenty world we now live in, the brand says the foundation has a "flexible polymer blend." In other words, in a similar vein to the skin tints and serums that I'm used to, one shade should be able to work for multiple skin tones. With that in mind, I was recommended the shade "Tan 3" after taking the website's color-matching quiz.
Still, I've made it my mission to try to find the one foundation that will satisfy all of my requirements: medium to full coverage, a glowy finish, and a package that doesn't take up too much room in my makeup bag (because I will undoubtedly be applying it in the back of an Uber on the way to an event). So when Patrick Ta Beauty came out with the Major Skin Crème Foundation and Finishing Powder Duos ($52), the hunt resumed.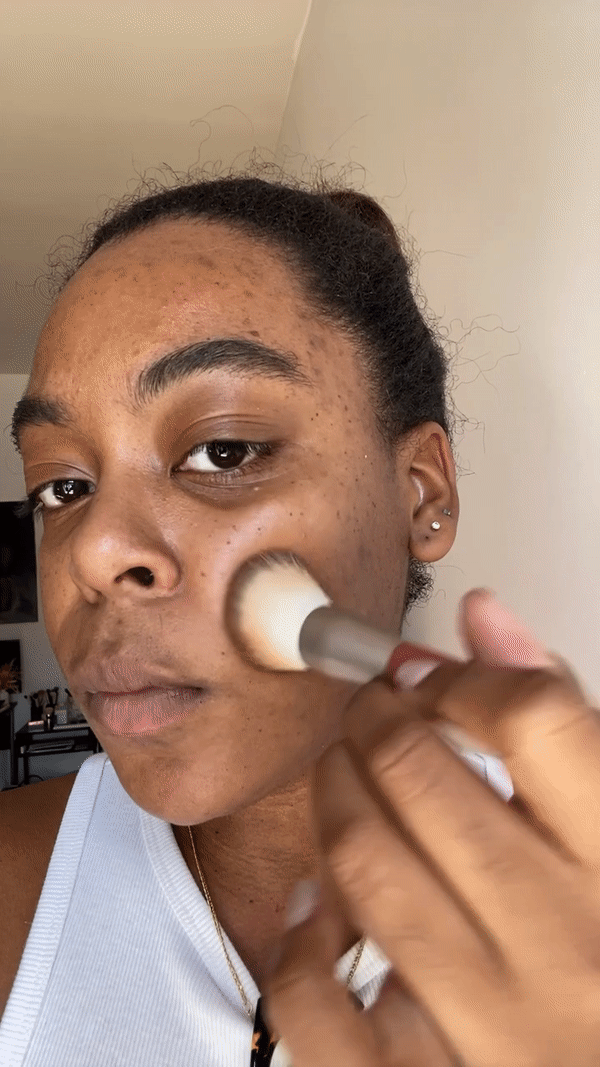 The packaging for the duo is as gorgeous as the rest of Patrick Ta Beauty's products — the makeup is housed in its signature rose-gold container. When I opened it, I immediately awarded points for functionality. The compact was split into two, with the cream foundation on top and the powder on the bottom. There was a small plastic flap covering the foundation, preventing it from getting onto a powder brush. On top of all of that, it also had a very decently sized mirror, making it perfect for using it on the go.
I excitedly took my Rose Inc. Number 3 Foundation Brush ($32) and tapped it into the foundation. When I applied it, the product easily covered my dark marks and freckles, so I knew it met the medium-coverage criteria. Once I applied it fully to my entire face, there was a soft-matte finish that — while not the borderline glass-skin glow I adore — was still a glowy and natural-looking shine that I really liked. Afterward, I set my face with the powder, which gave me a blurred, almost filter-like effect.
Although the undertone was slightly off, I'm fairly certain that going one shade down will fix the issue, so I will be getting my hands on my correct shade as soon as possible. Trust me: this foundation is exceptionally designed, and the product itself is fantastic. I will say that it is probably best to go in-store to find your best shade match, but that is a very small price to pay for an otherwise perfect product. Prepare to never hear me shut up about this foundation for the next three to six months.
Overall, this foundation was easy to use, provided amazing coverage, and was portable enough for my lifestyle. I'm a big proponent of beauty products fitting seamlessly into your routine, and this foundation compact has done just that and more. Plus, the built-in powder section will allow me to take a whole other powder compact out of my makeup bag, which is one less thing to carry.

Image Source: POPSUGAR Photography / Ariel Baker
Rating: