Olivia de Havilland Fell for Errol Flynn Off-Screen – She Still Felt 'Attracted' to Him after 2 Marriages
Advertisement
Olivia de Havilland starred alongside Errol Flynn as his lover about eight times and once said nothing happened between them off-screen. However, she later confessed that she'd felt more for him than she let on.
Besides Olivia, the British parents also gave her a younger sister, Joan. Four years after the star's birth, her family moved from Tokyo to the US in California because they thought climate change would do Olivia and Joan some good as they suffered from bronchial problems.
The first man to feature in Olivia de Havilland's life was her father Walter, a lawyer. He and his wife, Lilian, an actress, welcomed Olivia in 1916 in Tokyo, Japan, according to author Victoria Amador's biography "Olivia de Havilland: Lady Triumphant."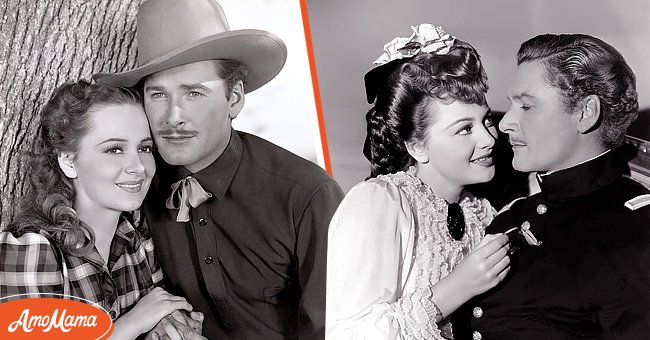 Olivia de Havilland and Errol Flynn in a publicity shot from the 1939 movie "Dodge City," and the two stars on the set of "They Died with Their Boots On," in 1941. | Source: Bettmann & Warner Bros. Pictures/Sunset Boulevard/Corbis/Getty Images
In Amador's book, it was revealed that he was absent primarily from Olivia's life, became distant, and didn't play much of a part in raising her. The actress said she didn't recall "any social problems related to the absence of a paternal presence."
Instead, Walter became indiscreet about his "infidelities." He had his Japanese mistress come and live with his family and employed her as their housekeeper but later left with the woman to return to Tokyo when his daughters were still relatively young.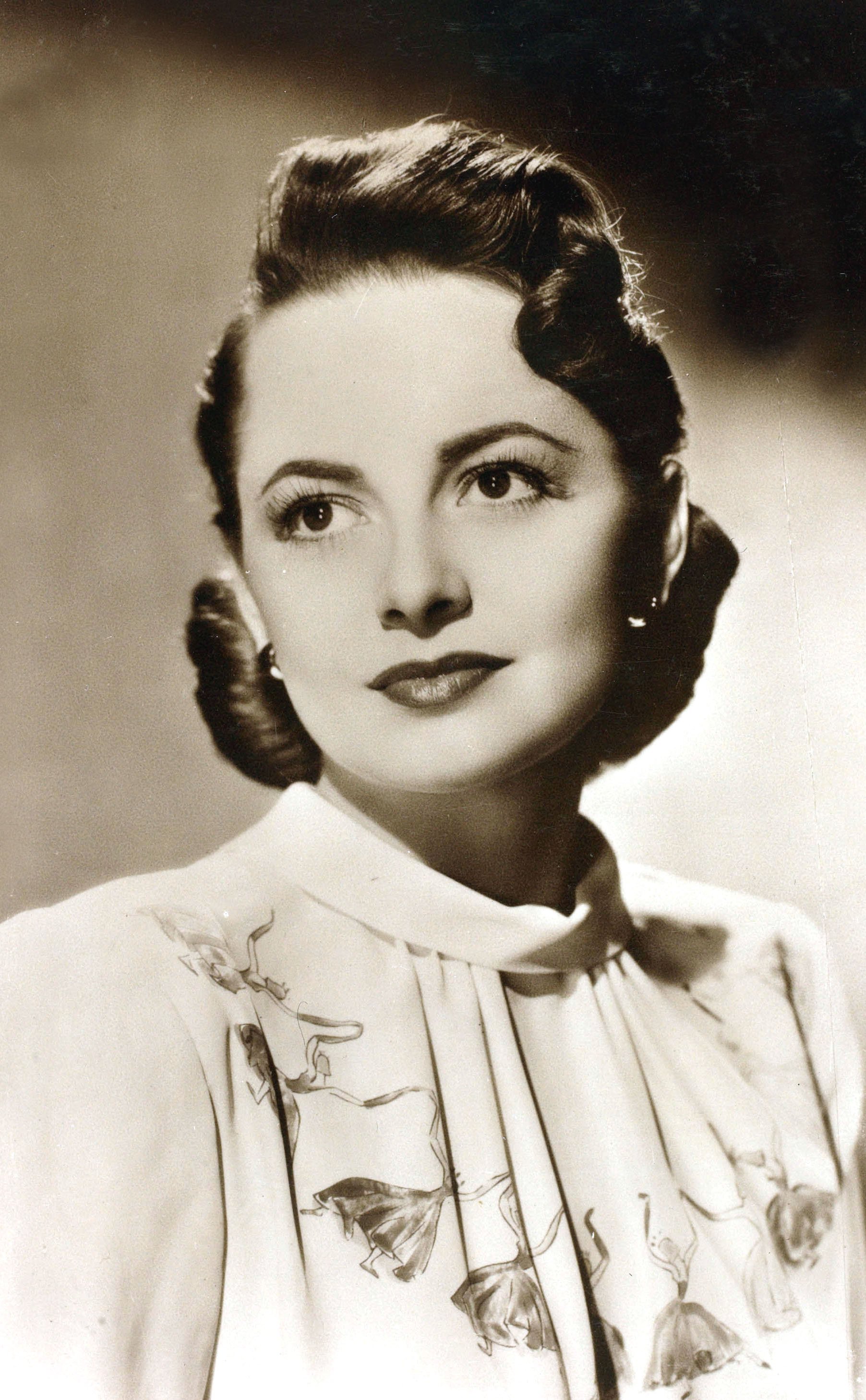 Olivia De Havilland posing in an old image in circa 1940. | Source: Bob Thomas/Popperfoto/Getty Images
Fontaine and his oldest stepdaughter would clash because of his personality. Olivia wanted to become an actress, and he disapproved, and she ended up moving at 16 to live with a family friend when he "forbade" her from starring in her school's theatre productions. 
Walter only returned to the US in 1940, but he and Lilian had divorced. Olivia's mother married George Fontaine, who became her's and her sister's stepfather, but he could be "extremely controlling."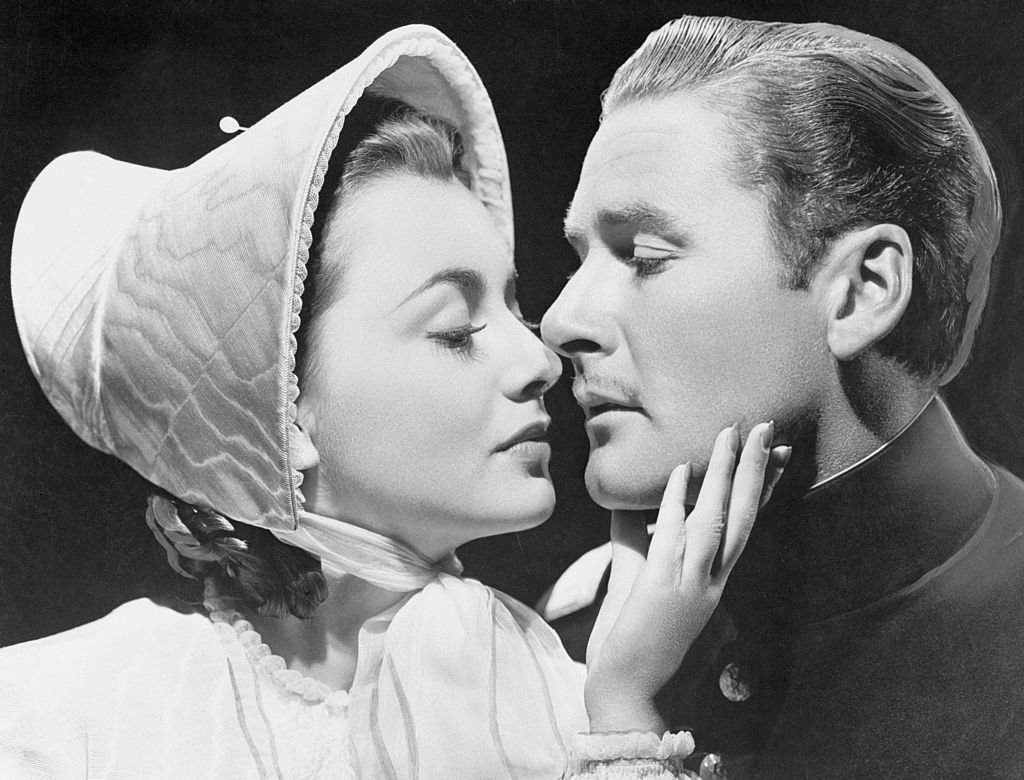 Olivia de Havilland and Errol Flynn on the set of "They Died with Their Boots On" in 1941. | Source: Warner Bros. Pictures/Sunset Boulevard/Corbis/Getty Images
MEETING AND FALLING IN LOVE WITH ERROL FLYNN
Olivia ended up being able to pursue her dreams when she got a stage role in 1933 as Hermia in a Los Angeles production of "William Shakespeare's A Midsummer Night's Dream." She was 18 and was about to become a drama student when she was allowed to understudy for the role. 
"I was called for a [silent] test… to see us in costume would look together. I walked onto the set, and they said, "Would you please stand next to Mr. Flynn?" I knew it was [love at first sight]."
According to the 2010 book "Errol & Olivia: Ego & Obsession in Golden Era Hollywood," Olivia met someone she would star with in many movies. The actress explained how she initially met Errol Flynn, stating: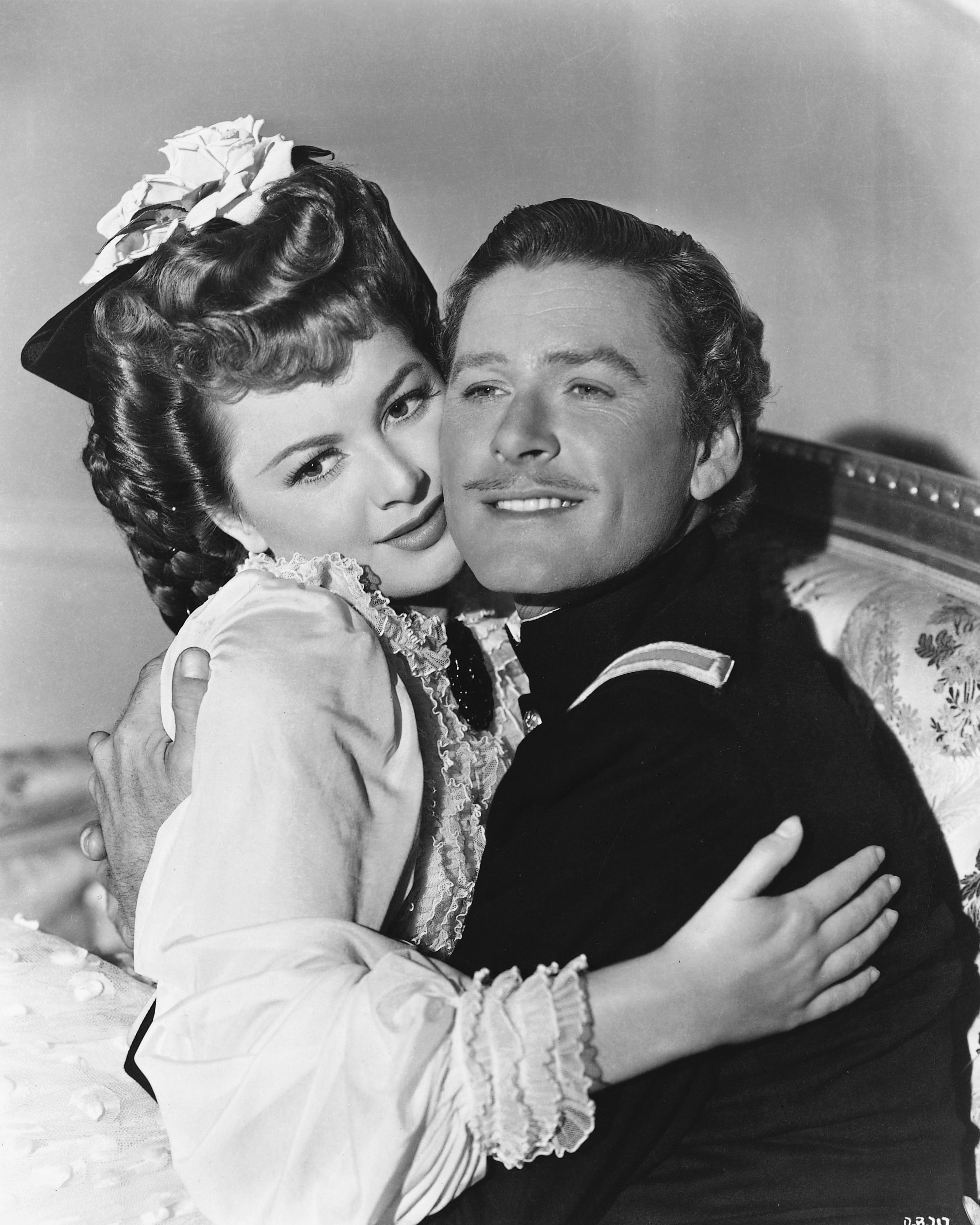 Errol Flynn and Olivia de Havilland in "They Died with Their Boots On," circa 1941. | Source: Silver Screen Collection/Getty Images
Olivia was quite formal when she took her position next to him because that's how things were done back in her day. In 1935, the young actress, aged 19, appeared alongside the older actor for the first time in "Captain Blood."
OLIVIA'S RELATIONSHIP WITH ERROL
The duo found themselves cast together in more films over the years. For instance, in 1938, they appeared in another movie, "Adventures of Robin Hood," in 1940, they were in "Santa Fe Trail" and had five more films where they had an onscreen romance.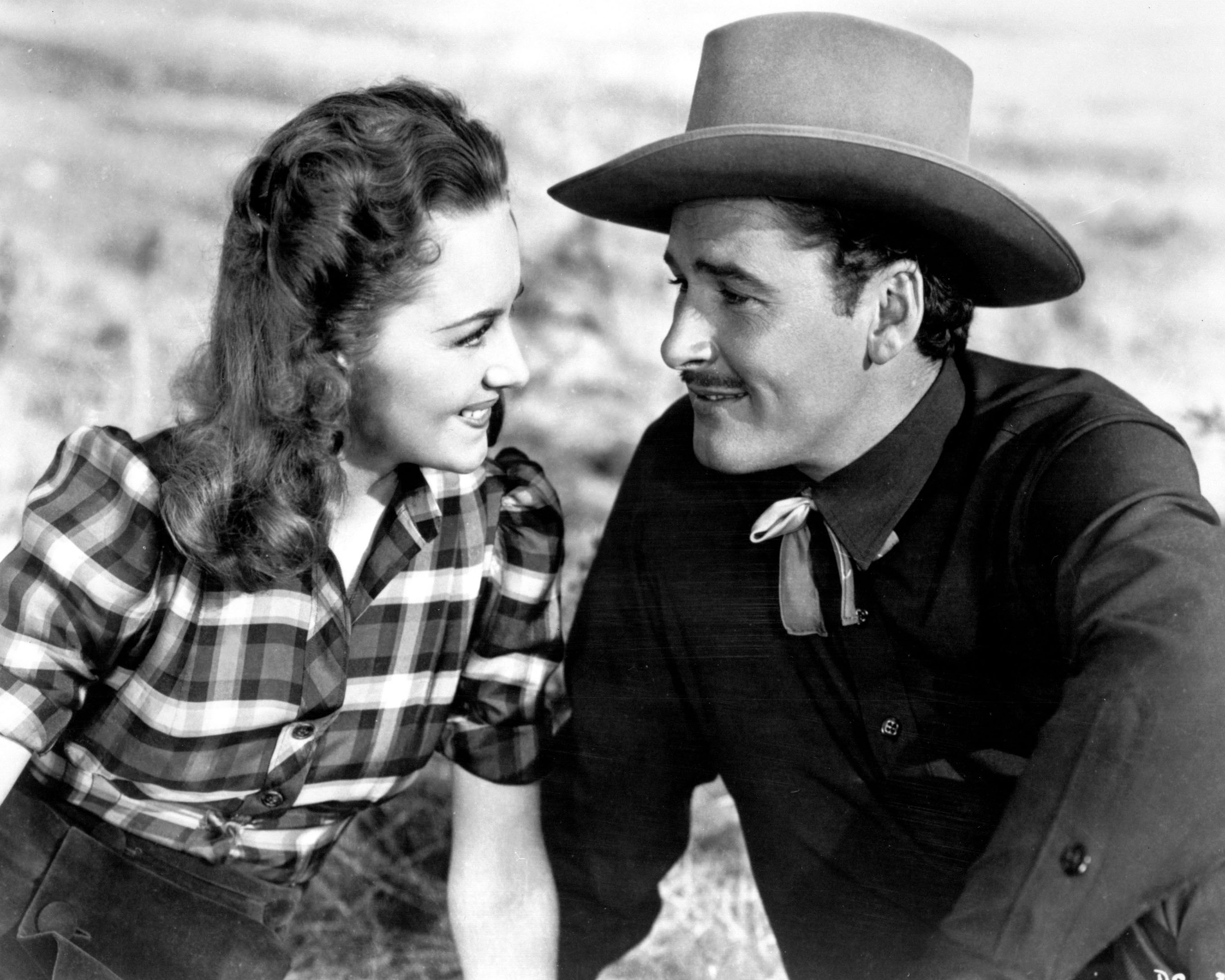 Olivia de Havilland and Errol Flynn in the western movie "Dodge City," in 1939. | Source: Silver Screen Collection/Getty Images
"So much nonsense has been written. I am always being misquoted… We were lovers together so often on the screen (eight times) that people could not accept that nothing had happened between us."
In 2009, the "Gone with the Wind" actress addressed the type of relationship she had with Flynn with Independent.ie. Speaking honestly, she noted the rumors about a romantic relationship between her and the Australian-born star, saying: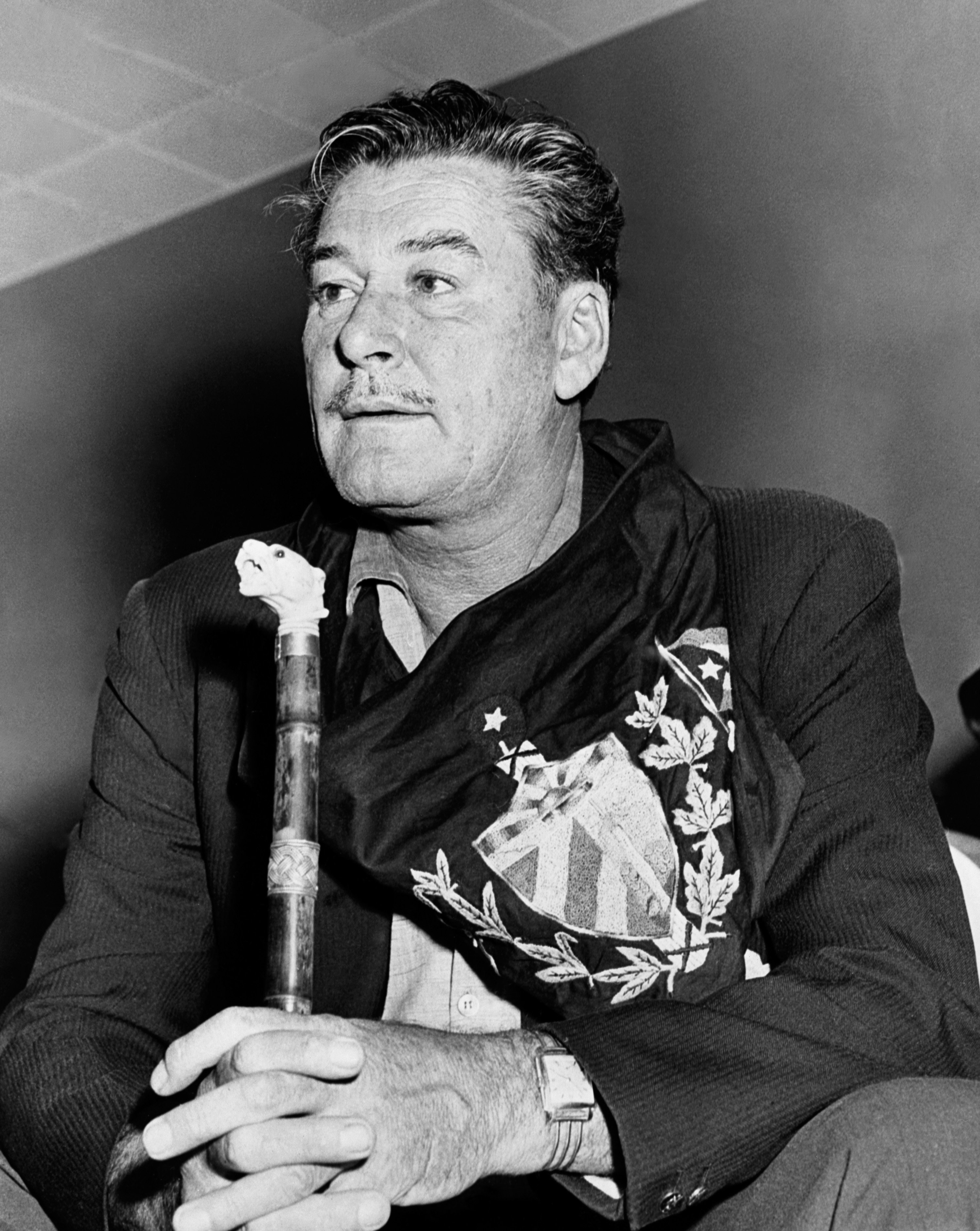 Errol Flynn wearing an anti-Castro flag in a portrait taken on January 12, 1959. | Source: AFP/Getty Images
Olivia even revealed that Michael Caine's autobiography misquoted her. Caine allegedly asked the actress about Flynn, and she told him nothing had happened between them outside of film work but mentioned going on a picnic with another man.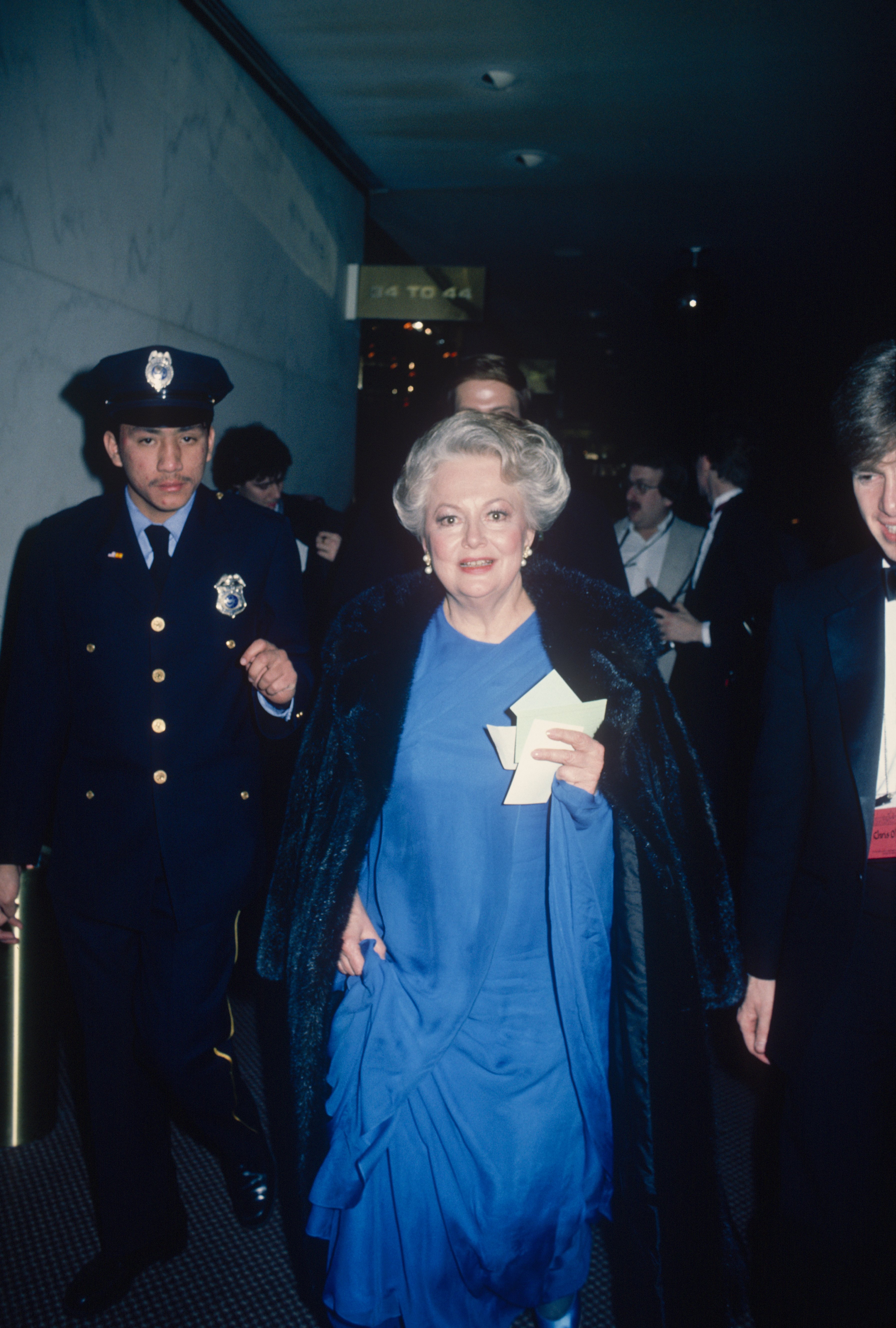 Olivia De Havilland escorted by a policeman, circa 1990. | Source: Art Zelin/Getty Images
She said he must resolve things with his wife first, but the actor never did despite Olivia admitting her feelings for him were "a trivial matter at all." Flynn also never approached Olivia about his feelings again, so nothing romantic happened despite their love for each other. 
Olivia told him they couldn't have a relationship as long as he was still married to his wife, Lili Damita. Flynn defended his stance, claiming nothing happened between him and his wife, but his co-star wasn't having it. 
Before his sudden death in 1959, Flynn also confessed his love for Olivia in his autobiography. The actress admitted that she was surprised by the revelation, but obviously, it wasn't that surprising because of their history.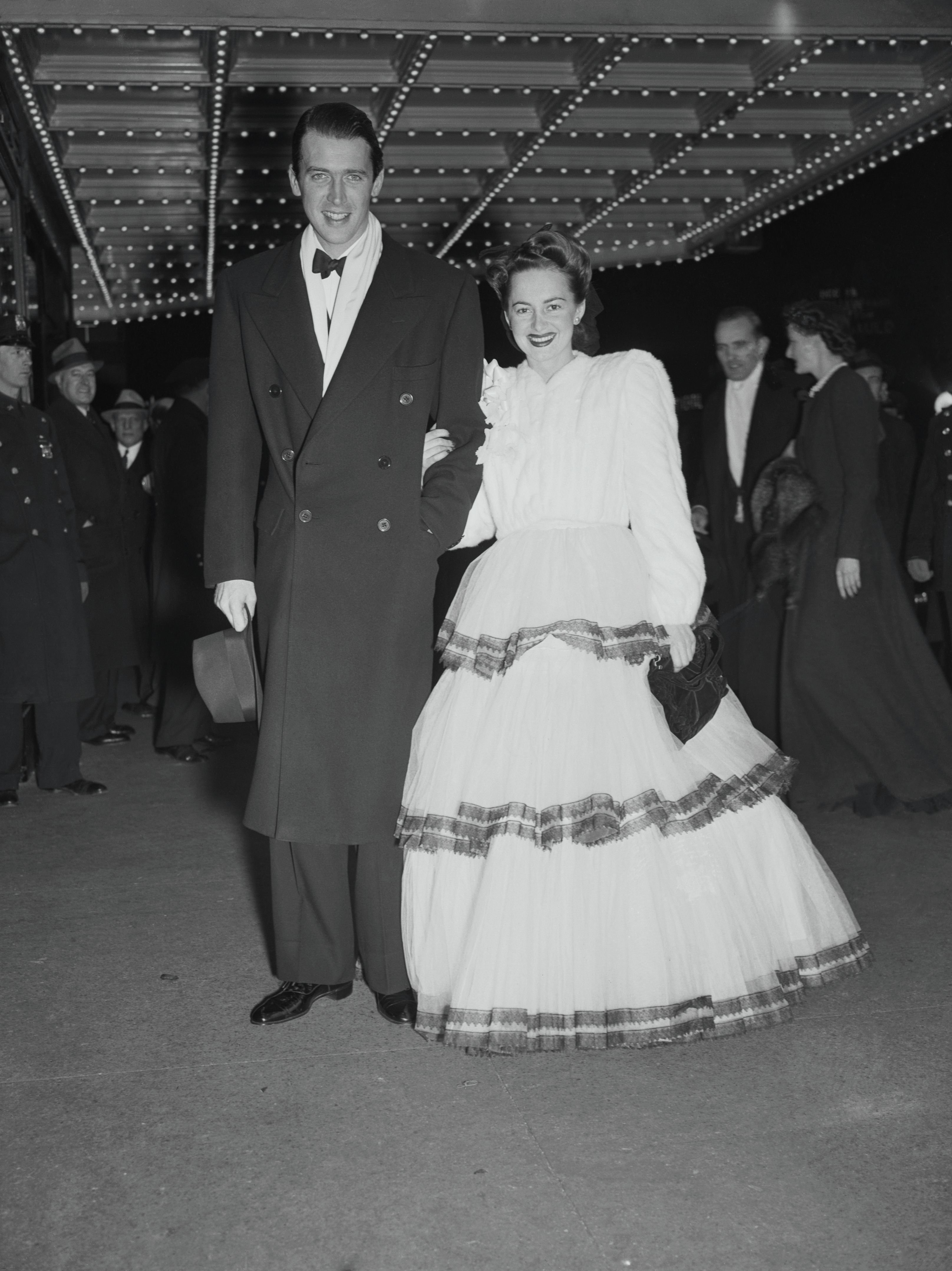 James Stewart and Olivia De Havilland at the New York opening of the "Gone With The Wind," on December 19, 1939. | Source: Bettmann/Getty Images
DE HAVILLAND'S RELATIONSHIPS
Some of the famous men that Olivia once dated included John Huston, Howard Hughes, and Jimmy Stewart. The actress refused to take a role in "It's A Wonderful Life" with the last actor because she didn't want to feature with Stewart.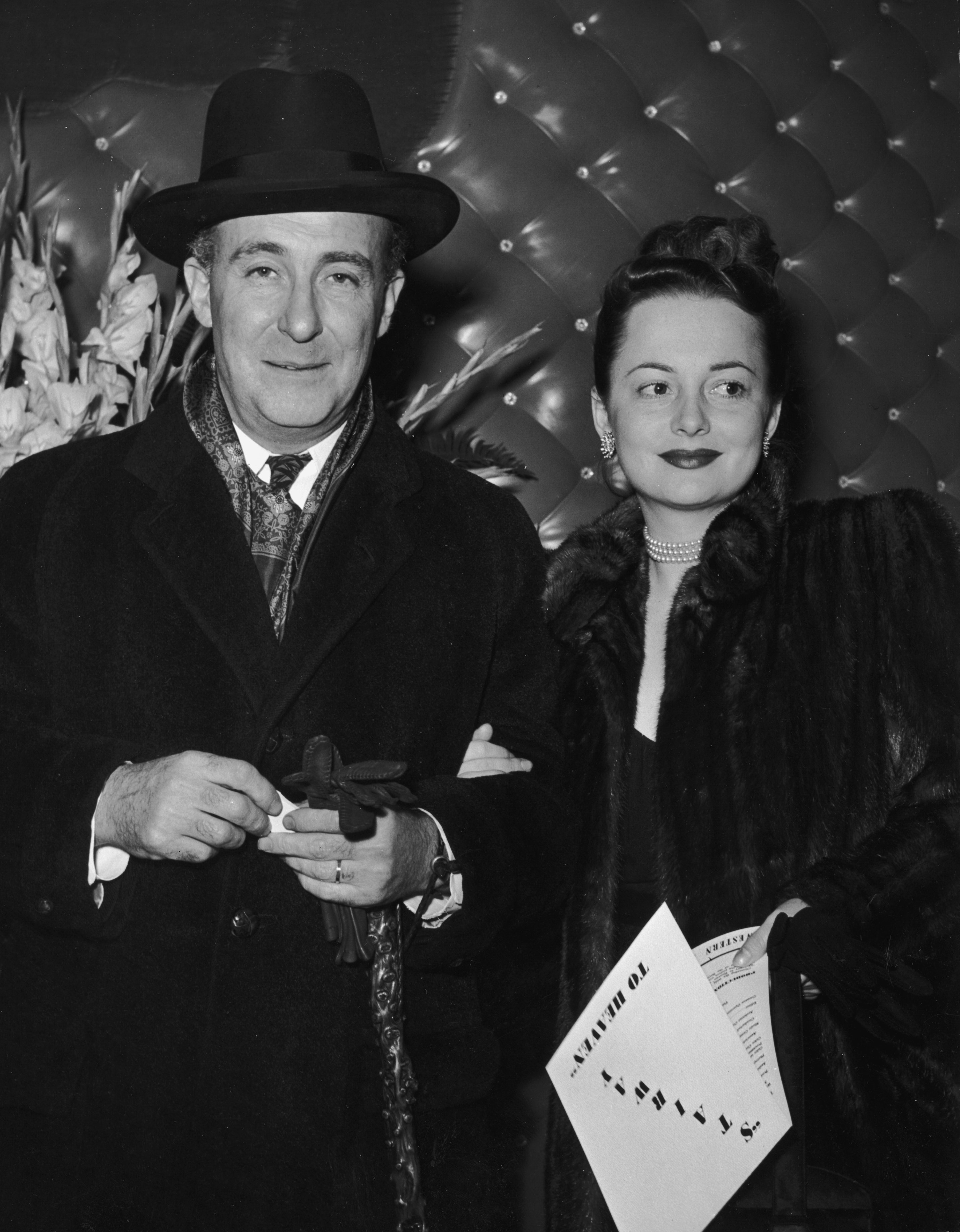 Marcus Goodrich and Olivia de Havilland at the premiere of "Stairway to Heaven," circa 1947. | Source: Hulton Archive/Getty Images
She thought it would've been awkward for her because of their previous months-long relationship. The first man Olivia married in 1946 was Marcus Goodrich, and they had a son, Benjamin, before divorcing in 1953.
Her second husband was Pierre Galante in 1955 after he pursued her to London and then to the US, before persuading her to move with him to Paris, France, with little Benjamin. She and the Paris Match editor and journalist had a daughter, Gisele, but that relationship also ended in divorce in 1979.
The star [Olivia de Havilland] didn't live far from the church and came often to observe the redesign of its small garden.
The former couple remained close friends, and when Galante got sick in 1998 with lung cancer, he moved back into Olivia's home, and she nursed him until he passed. Sadly, Benjamin died at age 42 after suffering from heart disease.
In 2020, Distractify revealed that Benjamin's sister became a law student at the Université de Droit de Nanterre School of Law. She worked as a journalist in both the US and France and married twice.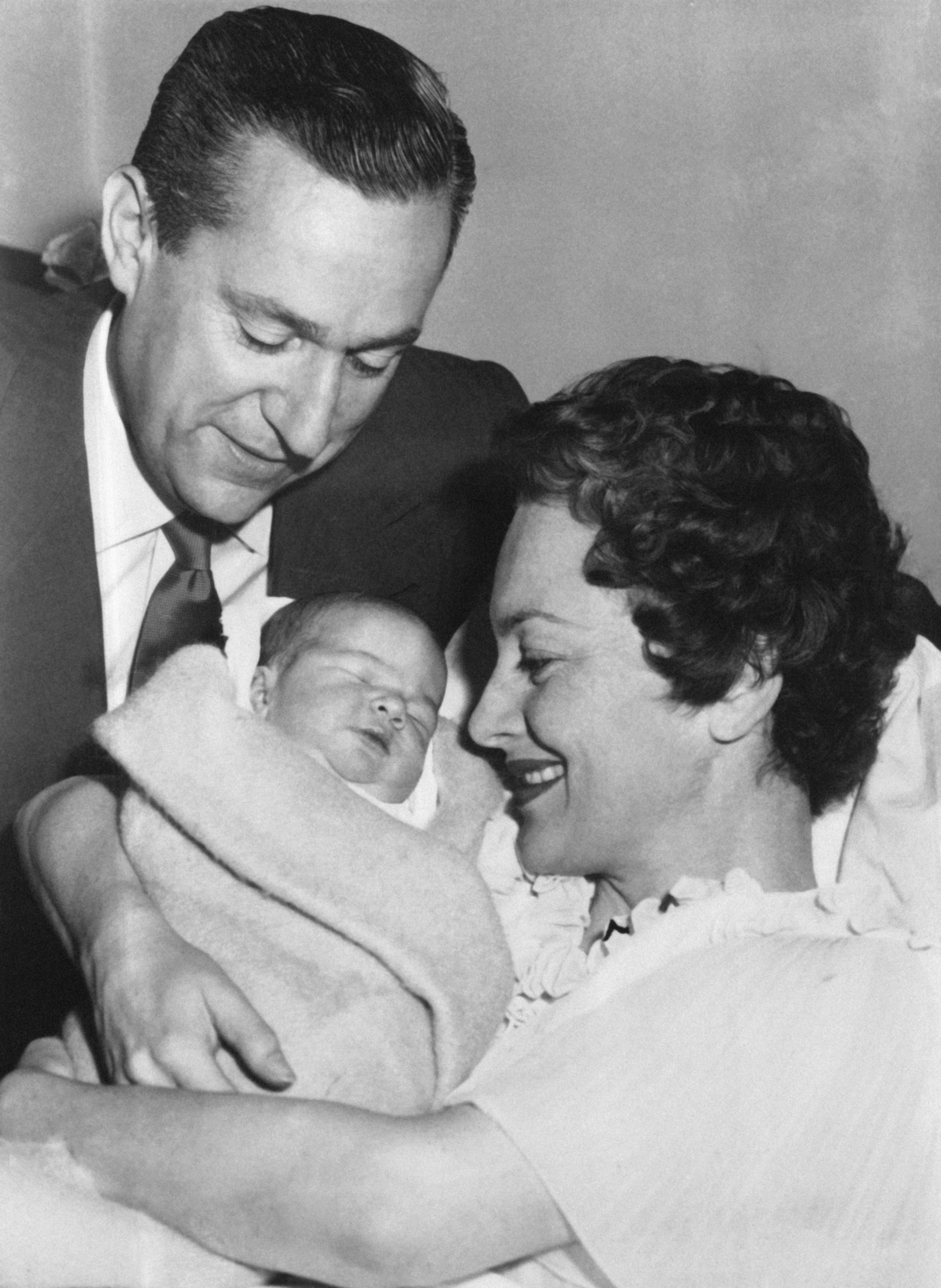 Olivia de Havilland and Pierre Galante welcome their daughter Gisèle in Paris, France, on July 21, 1957. | Source: Keystone-France/Gamma-Rapho/Getty Images
Gisele's first husband was Edward Broida, an art collector who passed on at age 72 from cancer in 2006. Her second husband is still her current one, Andrew Chulack, with whom she has no children.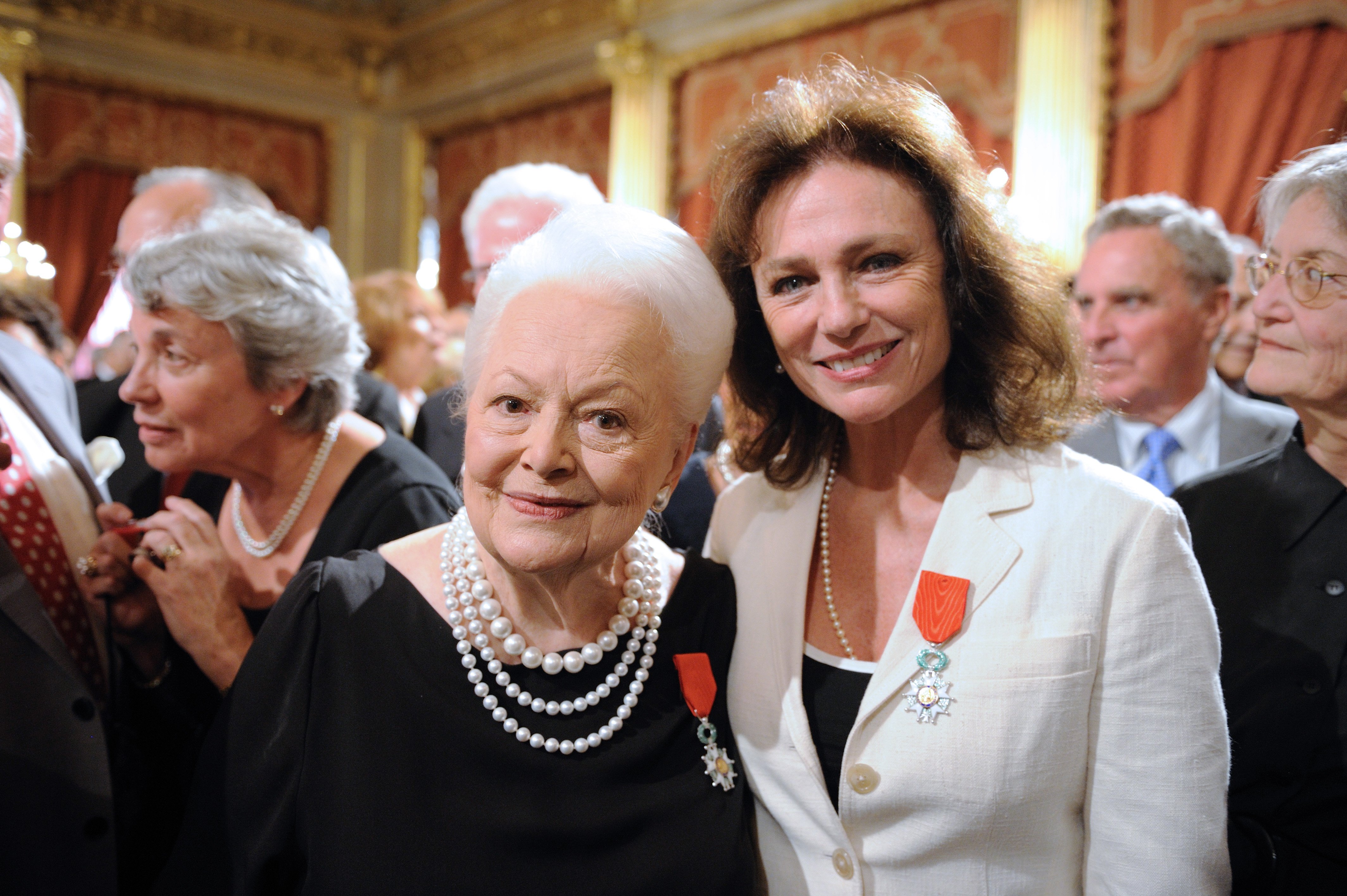 Olivia de Havilland and Jacqueline Bisset at the Elysee Palace in Paris, France, on September 9, 2010. | Source: Eric Feferberg/AFP/Getty Images
OLIVIA'S LIFE UNTIL DEATH
At the age of 88, Olivia was back living in Paris and worked in a church garden in her spare time after retiring from Hollywood. The star didn't live far from the church and often came to observe the redesign of its small garden.
In 2016, the former actress was approaching her 100th birthday, and according to Vanity Fair, she confessed to her French doctor that she planned on living until 110. She sadly died sooner on July 26, 2020, and despite all the affairs and marriages, she finally got to be with Flynn, whom she still was "terribly" attached to.